Restaurants & Bars
World-class meals await Iberostar Grand Rose Hall diners. The finest Montego Bay restaurant and bar options are on the grounds of the beautiful Iberostar Grand Rose Hall—including 5 specialty restaurant options, 2 buffets, and 6 bars. In the mood for something quick and casual? Have a bite near the pool. Hungry travelers can experience a diverse array of all the Jamaican fare Montego Bay has to offer. Find yourself on a gastronomic getaway with fine dining options from Japan, Italy, and the Mediterranean. Buffets and a la carte options are also available. The Iberostar Grand Rose Hall has fine dining and casual options to suit the mood and palate of every guest, at every meal. It's always cocktail hour at the bars of Iberostar Grand Rose Hall. Enjoy drinks poolside, in the theatre, and in the hotel lobby. Feel like a cozier nightcap? It's always possible to take drinks back to the room. Guests will find whatever they please among the Montego Bay restaurant options at the Grand Rose Hall.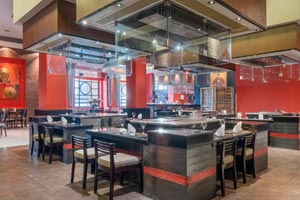 Kiniro
Japanese Restaurant
Experience traditional Japanese dishes and décor and indulge in ocean-fresh sushi. Grilled dishes and slowly simmered, non-traditional delights are also available. Perfect, fluffy white rice is always included.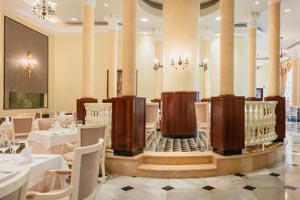 Es Palau
Gourmet Restaurant
A la carte never looked—or tasted—this good. Enjoy gourmet cuisines from around the world, right in Montego Bay. There's something for every eater—from adventurers to choosy diners.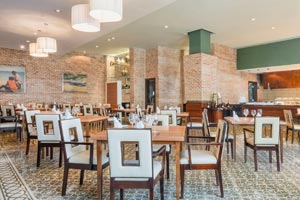 Galleon
Surf & Turf Restaurant
This a la carte surf-and-turf features a homey, wholesome quality everyone can enjoy in a classic American steak house setting. Sample choice meats, fresh fish, and bright, colorful veggie dishes. Start off with one of several tempting starter courses.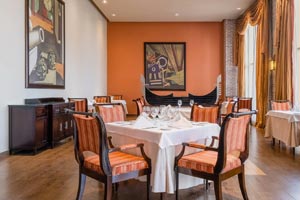 La Toscana
Italian Restaurant
Explore each region of Italy in this Mediterranean-inspired restaurant setting. Pizza and pasta abound, but there are classic, authentic Italian options for everyone. Mangia!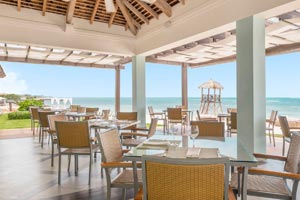 Port Maria
Restaurant & Snacks
A la carte, island style—with a gorgeous ocean view. Look no further than this Montego Bay restaurant for authentic, exotic Jamaican flavors and cuisines and island soul. When looking for a quick snack this buffet styled eatery will tempt every palate.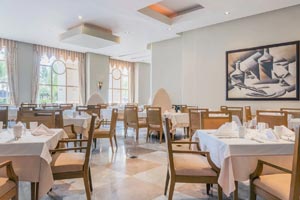 Cornwall
Buffet
A sumptuous-though-casual spread unlike other Montego Bay restaurants, the Cornwall buffet is open for breakfast, lunch, and dinner. Start the day with a quick plate of fruit and a cup of coffee, or come in from an afternoon of adventuring for something substantial.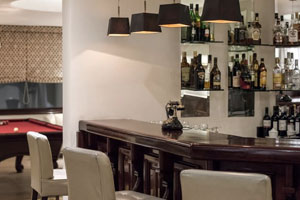 Hemingway
Lounge
Trade big fish stories and plan the next island adventure—perhaps golf, or an ocean-faring excursion—at the Hemingway Lounge sports bar.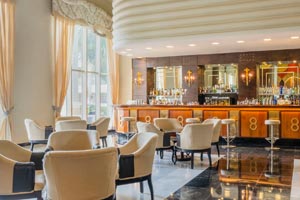 Aqua
Lobby Bar
Waiting for your group doesn't have to be boring! Have a refreshment at Aqua, located in the lobby.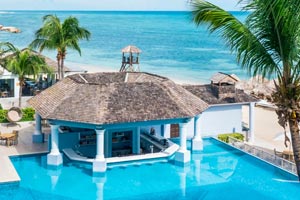 Lucea
Wet Bar - Beach Bar
Vacations are all about relaxing in the sun with a tall refreshment in hand. Make a toast to fun in the sun with a poolside drink from the fully stocked pool bar.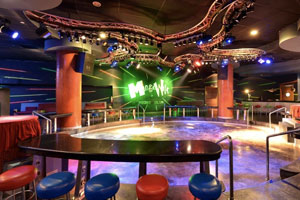 Mango Walk
Nightclub
Island dancehall grooves and reggae vibes pair perfectly with the selection at the discotheque bar.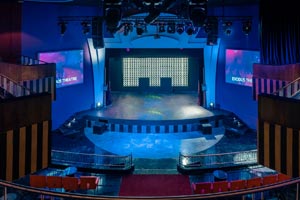 Exodus
Theater bar
Nothing more exciting than sitting through a live show! This theater bar is sure to satisfy while the nightly entertainment unfolds!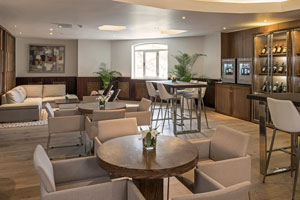 Star Prestige Lounge
Lounge Bar
Enjoy exclusivity and luxury in this lounge serving top shelf favorites. With sleek furnishings and skilled baristas, unwinding is easy! Requires additional cost.